How to Create an Email with Your Domain Name
Every business owner wants to have email addresses that reflect their domain name because it reinforces the brand and adds professionalism and business quality to the experience rather than relying on a Gmail address or some other generic email account provider. The fact is the ability to have an email domain comes with every domain name you get. Even better is that the email domain is free so you have that value added to your purchase. When you establish your website, your Contact Us page can then have a username@yourdomainname.com on the page.
Steps for Email Domain Creation
You can create a domain name email address from the c-panel that you get from your website hosting provider along with the one free email account. Of course, you can have more email domain accounts, but you will most likely pay for all of those accounts after the initial free one.
The first step is email forwarding, which allows your incoming email to go to a domain email account. It's a convenient way to set up a new email address for your company without making major changes. These forwarded email addresses are also known as aliases. You can have as many aliases as you want for your company and staff that all point to the same destination email.
What makes it all easier is to just set up an email domain account for your company email. The first step is to create your domain name email address by logging into your blog hosting control panel, also known as a c-panel. There is a place on the control panel that shows Email Accounts. From this screen, all you have to do is put in your details like the email address and password you have selected. Once you've finished with this you will then get a notification that tells you the email domain account was created.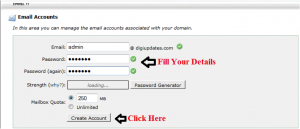 When that's done, you can go back into the c-panel, click Forwarder in the Email section, and click Add Forwarder. Follow the instructions on the screen and fill in the details, which include email address and destination. This will allow all the new email domain addresses to flow into your personal email address.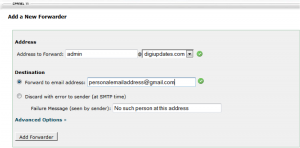 Setting Up Email Domain in Gmail
If your personal email address is with Gmail you can also easily integrate the new email domain by signing into your Gmail account. From there, choose Options and then Mail Settings. Click on Accounts and Imports and then check, Send Mail As, and Add Another Email Address You Own.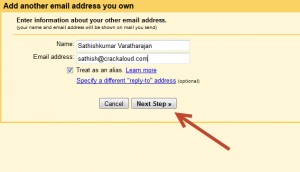 A popup menu will allow you to put in the details about that email domain address. Follow the instructions so that you can Send Verification and test that it works. By choosing Compose Email, you should be able to see that you have your new email domain address there to choose if you want to send a company email or your Gmail address if you want to send personal correspondence.
Separating Work from the Personal
Separating your work email from your personal email is actually that easy and doesn't require IT knowledge to get your professional email set up so you can start corresponding with prospects, partners, talent and more while keeping your personal email for personal matters.
Also, having control over your email also provides you with more security and peace of mind rather than relying on the various email providers that may not always be protecting you as much as you would like. This control over your online presence can be very useful and offer you a way to determine what you share through your company and what you can keep separate as part of your life outside of work.